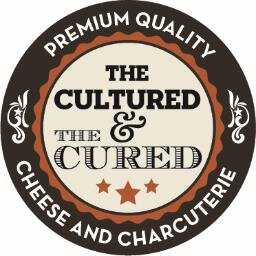 The Cultured & The Cured (which I'm convinced will soon be shortened to just Cultured & Cured) opened on Oct. 28. Sac Bee restaurant critic Blair Anthony Robertson paid a visit and shared some of his thoughts:
The products are attractively displayed and are available for takeout, or you can order food and drinks at the shop and enjoy them at one of the few available tables. The cheeses and charcuterie are sourced mostly from California purveyors.

The extensive renovation of the building, which last saw use as an electric bike shop, is impressive, with stained concrete floors, a refrigerated display case and various stylish details that give the room warmth and charm.

I ordered a duck liver pâté and a silky smooth duck liver mousse that had been marinated in port wine, both produced by Fabrique Delices, an artisan charcuterie business based in the East Bay.
I haven't had the chance to go yet, but I'm super excited about the pate. I had some on a recent vacation to France, and it was one of those things that I promised myself that I'd try to eat more of when I got back. Five weeks later, I still haven't tried to find any at a local market.
But I'll definitely give it a try when I make it out to Cultured & Cured.
Cultured & Cured is located at 36th & J in East Sac.
Read the entire story in the Sac Bee.
More News:
Fresh look for CPK - California Pizza Kitchen is spending $1 million-plus to remodel its Arden Fair restaurant, adding reclaimed wood to the exterior and interior as it stresses sustainability and a California casual ambiance in its new decor. Tabletops are made from reclaimed barn doors, chief executive G.J. Hart told me, and LED lighting reduces the electrical drain. A new bar welcomes guests who want a more adult-oriented experience, he said, while the restaurant area remains family-friendly. Cathie Anderson in the Sac Bee.
Beer Run: Rubicon tells 'cheater pints' to kiss their glass - But Rubicon also strives to do things the right way when it comes to serving its award-winning beers at the pub by rolling out a concept called the "honest pint." In fact, owner Glynn Phillips and company have gone to great expense to make a point – buying an entirely new inventory of glassware with the Rubicon logo. One thing you'll notice is that it's a big glass, and there's a measuring line for 16 ounces, allowing room for an aesthetically pleasing head. Blair Anthony Robertson in the Sac Bee.
Try It: Grange's Fennel Sausages - I'll admit to being a little obsessed with Grange Restaurant & Bar's housemade breakfast sausages: these porky, fennel-dotted, hand-formed patties of goodness have a fabulous, rustic texture, lusty, meaty flavor and a hot, spicy smack to the palate that's sure to wake up your taste buds. Kira O'Donnell in Sac Mag.
Rick's Dessert Diner will add wine at new venue - When Rick's Dessert Diner finally makes its move two blocks to J street in February, it will be adding dessert wine pairings to its menu of cakes, pastries and desserts. The 1950s-themed diner had planned to be open in the new location by now, but the conversion of the office building at 24th and J streets has proven to be more complicated. For one thing, the office space needed to have kitchen hoods engineered into the building, and the whole space needed more electrical wiring, said Ahmed Eita, owner of Rick's. Mark Anderson in the Sac Biz Journal.
VIDEO: Cooking with The Wicked West - The Wicked West gets creative with Thanksgiving leftovers. Paul samples their holiday creation: Turkey Mash Pizza. On FOX 40.